Affordable Housing Developers: Key Updates About State Pass-Through Entity Tax Elections
At a glance
The main takeaway: More than 30 states across the country have enacted pass-through entity (PTE) taxes, and they all have their own eligibility rules and deadlines.
Impact on your business: Before the next set of deadlines approaches, affordable housing developers should take steps to assess their eligibility and decide whether or not to take the election based on their unique tax situation.
Next steps: Aprio's Affordable Housing team can help affordable housing developers understand PTE tax election rules and determine the right path to take.
Schedule a consultation with Aprio
The full story:
The tax world has been buzzing about pass-through entity (PTE) taxes recently. More than 30 states across the country have enacted PTE taxes, and they all have their own interpretations of eligibility as well as separate deadlines.
What should affordable housing developers know about PTE taxes? Here is a summary explaining what the PTE tax election is, the opportunities (and challenges) it can pose to your development company, and important decisions to deliberate.
Defining the PTE tax election
Put simply, the PTE tax election allows you to pay tax at the entity level for your respective state rather than pay tax at the individual level. The PTE tax imposes income tax directly on the PTE (it's not a composite or withholding tax on behalf of individual owners), and PTE owners receive a personal income tax credit for their share of the PTE tax liability. As the IRS acknowledged in Notice 2020-75, the PTE is entitled to deduct the PTE tax paid in full on its federal partnership return, which lowers the federal taxable income reported by and the federal income tax liability paid by each of the owners.
Key challenges for affordable housing developers
Prior to the 2018─2019 tax year, taxpayers received an itemized deduction for the amount of taxes they paid (whether it was property tax, income tax, etc.). However, the Tax Cuts and Jobs Act (TCJA) put a $10,000 limit on that deduction, so many higher-earning taxpayers missed out on it. States have started to enact PTE taxes as a workaround to this deduction cap.
There are two main forms of the PTE tax election:
The owner receives a credit against personal tax for their share of PTE tax paid (generally refundable)
The owner receives an exclusion on their respective state return for the income subjected to PTE tax
The complicated part of this is that PTE taxes are deducted at the state level, which means there are several different rules and deadlines businesses may need to follow depending on where they are located.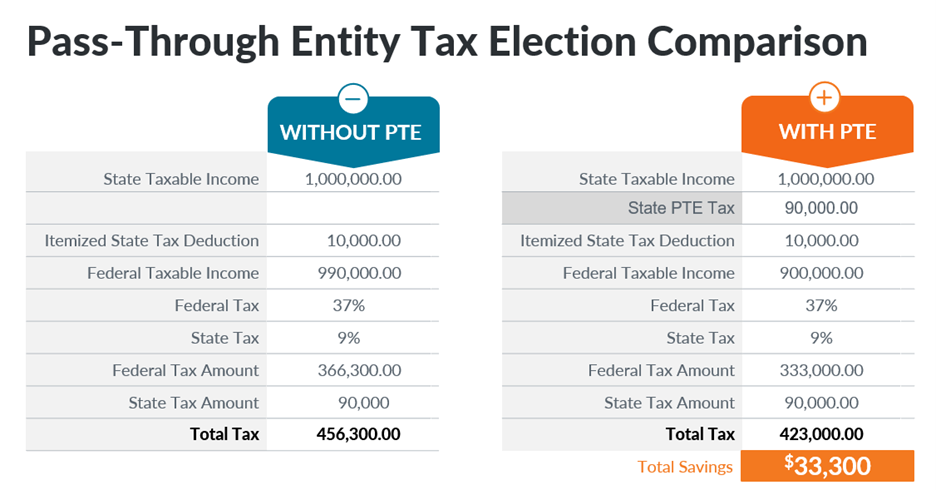 Tax considerations for affordable housing developers
It's worth repeating that PTE tax rules are complex in terms of how, when and if businesses should apply them. Here are a few important considerations to keep in mind:
Which states have established PTE tax rules: Aprio has created a helpful interactive map you can use to identify whether or not your state has these rules in place, and if so, what they mean for your business. Click here to take a look.
How to collect into PTE and qualifying factors: Generally speaking, partnerships and S corporations are among the types of entities allowed to make PTE tax elections. However, each state has its own exceptions, which could significantly impact your eligibility. It's important to enlist the help of a qualified, industry-specific tax team like Aprio to fully understand whether or not you qualify and how to approach next steps.
PTE tax computation and estimate requirements: In order to pinpoint your PTE tax election benefit, you must evaluate a wide range of factors, including entity performance. This process will also illuminate whether or not the election is actually going to be beneficial to you — remember that not every business will benefit from making a PTE tax election. This is another area in which the expertise of a qualified team is essential.
How to apply the PTE tax election credit or exclusion: Once you have decided to take the PTE tax election, then you must act quickly to make sure you don't miss your deadline. Just like the rules governing the election itself, essential due dates vary on a state-by-state basis.
Multistate considerations: If you own an entity with income taxed in multiple different states, then you have a host of other factors to parse through. For instance, as a nonresident, will you be allowed to take an "other state tax credit" on your resident state income tax return for elective PTE taxes paid in a different state? This is one of the most critical state and local tax issues to solve for and, once again, it varies depending on where you are located.
Partner/shareholder residency considerations: Entity owners may include partners and shareholders, and these individuals either might be allowed to take a state tax credit for their portion of the PTE tax, or they might exclude their share of the entity's income in calculating their state income taxes. As mentioned above, residency considerations vary by state and will be determined on a case-by-case basis.
Next steps
With the new year rapidly approaching, it's important to decide whether or not you want to take the PTE tax election soon. But first, you need to determine your eligibility. Aprio's Affordable Housing team can provide you with the knowledge, guidance and support you need to make the right decision for your development company.
In the meantime, be sure to listen to our webinar on the PTE tax election and get a better understanding of your eligibility status and next steps. Then, schedule a consultation with our team to start the process. We look forward to helping you navigate the complexities of the PTE tax rules and ensuring you're in the best-possible tax position going forward.
Alison specializes in the audit requirements of the construction and real estate industries, with deep experience in commercial real estate, multifamily housing and affordable housing. She works extensively with corporations, S-corporations and partnerships in the real estate space.
(770) 353-7115