The Fundamentals – Pulse on the Economy and Capital Markets: 8/3/20 – 8/7/20
|
Reading Time: 4 minutes
Executive Summary
We received relatively solid economic data about July, notably in manufacturing, as well as strong jobs and unemployment data which are trending in the right direction. However, the high frequency data is highlighting that the pace of recovery has slowed. On the back of the stronger employment and manufacturing data, the stock market increased during the week, with the best performance from more economically cyclical companies. For example, hotel/lodging companies led the Consumer Discretionary sector.
The Markets


Roughly 90% of S&P 500 have reported second-quarter earnings – earnings declined 9% year-over-year but exceeded estimates by an average of 23%. This has led to strong recent performance in the markets.
Tech companies grew earnings by 1%, whereas Utilities grew earnings by 9%;
Industrials' earnings plunged 31%, however the market was expecting a roughly 50% decline.
For the week, the Russell 2000 – which is weighted toward smaller US publicly-traded companies – performed the best while the Dow Jones (weighted toward more cyclical, larger US companies) was also strong, a sign that investors are optimistic about a US economic rebound.
The technology sector remained strong. For more than five years, every quarter the growth rate of the technology sector has been greater than the overall market's. For Q2, the technology sector's growth rate was more than 10%age point greater than the broader S&P 500's.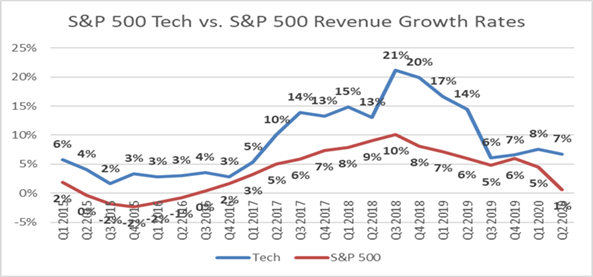 * Revenue is on a trailing 12-month basis
The Economic News
The labor market showed improvement – the Unemployment Rate for July was 10.2%, better than the expected 10.6% and down from June's 11.1%
The Unemployment Rate benefited from fewer people considering looking for work (i.e. the denominator in the Unemployment Rate) which declined compared to June and was expected to increase in July.
The measure of "underemployment" also declined to 16.5% from 18% in June. Underemployment is unemployment plus those who are in jobs positions where they are not working as many hours as they want or over-qualified.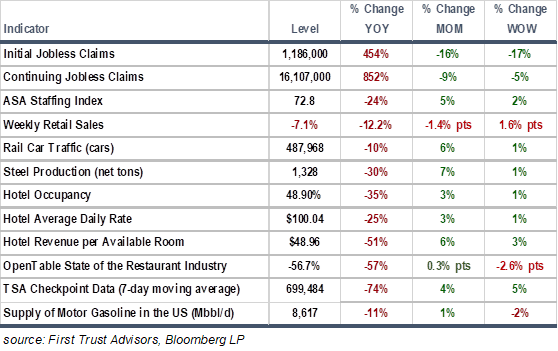 High frequency data showed a positive week in general, with initial claims in the labor market coming in better than expected. With the exceptions of Weekly Retail Sales and Restaurant diners, the data we track improved compared to last week.
The issue is that the pace of recovery, especially in consumer-driven components of the economy, has slowed. The recovery started to stall with the rise in Covid-19 cases in June.
Airline Travelers – Year over Year decline


Consumer: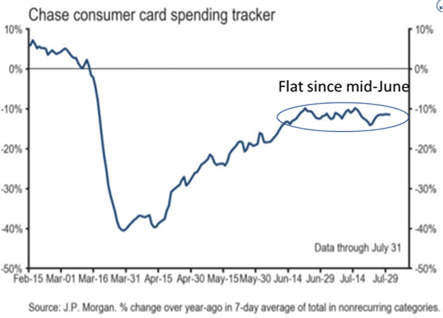 Mortgage – 30 year fixed is now at 2.88%. This is the 8th time this year making a historic low, down roughly 70 basis points in the last year.
The surprisingly strong housing market and home projects related to staying at home in response to Covid-19 has led to a surge in lumber prices. Lumber prices increased 81% year-over-year and are at the highest levels in nearly two decades.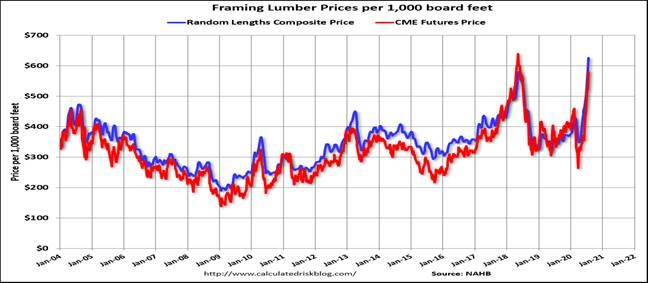 Corporate:
Readings above 50 indicate growth, below 50 indicate contraction
ISM Services – July was above expectations (58.1 vs 55) and up from June's 57.1
15 service industries reported expansion including health are, retail and transportation
ISM Manufacturing – July improved to 54.2 and was ahead of expected 53.6
13 of 18 industries pointed to growth, led by wood products, furniture and textiles.
New Orders – were much stronger than expected 61.5 vs. 55.1 and June's 56.5 signaling that August manufacturing numbers should be strong and that supply chains need inventories.
Factory Orders – increased 6.2% in July, better than 5% expected and down from June's 8%
New Auto Sales – 14.5m annual rate was better than expectations of 14m and 13m in June.
Vehicle sales have rebounded significantly
Used cars are in hot demand (link)
Construction Spending disappointed – declined -0.7% vs. expected growth of 1% and decline of -2.1% in June
Manufacturing PMI – 50.9 was slightly below expectations of 51.3 and below June.
International:
Economic rebound in Europe is taking foot as manufacturing recovers from pandemic lows.
Industrial output in Germany — the region's biggest economy — rose at a faster-than-expected pace of 8.9% in June, and factory demand is also increasing.
France and Spain are experiencing similar trends, signs are mounting that Europe's initial bounce-back from the worst recession in living memory may be faster than anticipated.
China's exports rose in July as economic activity in the rest of the world recovered and shipments to the U.S. jumped.
Exports rose 7.2% in dollar terms in July from a year earlier.
Japan's household spending recovered close to pre-pandemic levels
This was the first-full month after the nationwide state of emergency ended
Businesses reopened and more government cash handouts helped the recovery.
A Few Stories that Caught My Eye

Disclosures
Investment advisory services are offered by Aprio Wealth Management, LLC, a Securities and Exchange Commission Registered Investment Advisor.  Opinions expressed are as of the current date (February 26, 2020) and subject to change without notice. Aprio Wealth Management, LLC shall not be responsible for any trading decisions, damages, or other losses resulting from, or related to, the information, data, analyses or opinions contained herein or their use, which do not constitute investment advice, are provided as of the date written, are provided solely for informational purposes and therefore are not an offer to buy or sell a security. This commentary is for informational purposes only and has not been tailored to suit any individual. References to specific securities or investment options should not be considered an offer to purchase or sell that specific investment.
This commentary contains certain forward-looking statements. Forward-looking statements involve known and unknown risks, uncertainties and other factors which may cause the actual results to differ materially and/or substantially from any future results, performance or achievements expressed or implied by those projected in the forward-looking statements for any reason.
No graph, chart, or formula in this presentation can be used in and of itself to determine which securities to buy or sell, when to buy or sell securities, whether to invest using this investment strategy, or whether to engage Aprio Wealth Management, LLC's investment advisory services.
Investments in securities are subject to investment risk, including possible loss of principal. Prices of securities may fluctuate from time to time and may even become valueless. Any securities mentioned in this commentary are not FDIC-insured, may lose value, and are not guaranteed by a bank or other financial institution. Before making any investment decision, investors should read and consider all the relevant investment product information. Investors should seriously consider if the investment is suitable for them by referencing their own financial position, investment objectives, and risk profile before making any investment decision. There can be no assurance that any financial strategy will be successful.
Securities offered through Purshe Kaplan Sterling Investments. Member FINRA/SIPC. Investment Advisory Services offered through Aprio Wealth Management, LLC, a registered investment advisor. Aprio Wealth Management, LLC and the Aprio Group of Companies are not affiliated with Purshe Kaplan Sterling Investments.