The Fundamentals – Pulse on the Economy and Capital Markets: 8/10/20 – 8/14/20
|
Reading Time: 5 minutes
Executive Summary
The high frequency data is showing signs that the economy is starting to open again after the Covid-19 impacts across the Sunbelt states and California. This rebound is reflected in the capital markets where the stock market saw recent gains in more economic-sensitive industries, while the high-yield bond market had very strong issuance volume.
The Markets
The markets embraced risk and cyclical rebounds this week.
The markets favored cyclical companies on the back of better economic data, a sign that the U.S. economy has been rebounding. The more domestic-oriented Russell 2000 and the more economically sensitive Dow Jones Industrial Average performed well. Additionally, for the week, more cyclical sectors such as Industrials, financials and materials performed best in the S&P 500 while technology-oriented sectors fared poorly.
Concurrently, this week was the second busiest week on record for issuing high-yield (a.k.a. junk) bonds – a sign that the market believes that any weakness in securities prices would prompt the Fed to step in. The Fed already has a program in place to purchase high-yield bonds with specific, pre-defined attributes, leading investors to buy these new issues and create liquidity in this corner of the financing market.
CDX Index – tracking the cost to bondholders to insure against default of high yield bonds.


The Economic News

We are starting to see the economic rebound improve the Covid-19 flatlining in June and July. As the OpenTable diners traffic in the chart below shows, Consumers are becoming more economically active after SunBelt states and California experienced a re-emergence approximately eight weeks ago.
Similarly, the NY Fed's weekly tracker for economic activity has now reached a level not seen since late March, after stalling during the summer: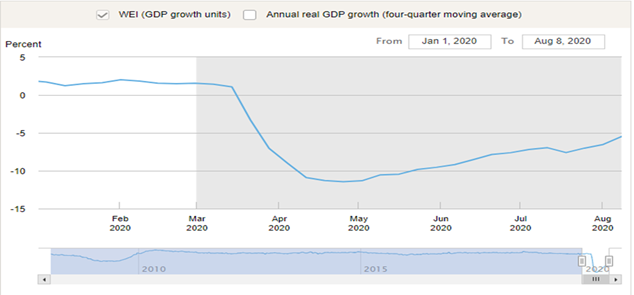 https://www.newyorkfed.org/research/policy/weekly-economic-index#/interactive
The high frequency data confirms this. Results are showing continued progress across the economy – all factors we track improved month over month and week over week. While results are still down significantly compared to pre-Covid levels, the healing is happening.

We also received better than expected initial and continuing unemployment claims filings this week. While the levels remain incredibly elevated compared to history, this week as the first in 21 weeks that initial claims were below 1 million. We have had consecutive strong weeks of trending down after 2 months of flat results when accounting for the Pandemic Unemployment Assistance (PUA).
Continuing unemployment claims – 15.5m better than expected 15.8m and 16.1m last week
Initial claims – 963k, better than expected 1.1m and 1.19m last week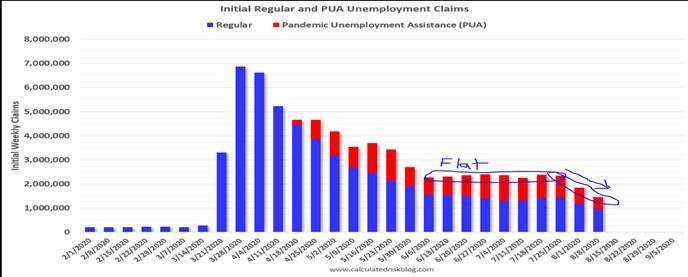 Consumer:
Retail sales for July – 1.2% were below expected 2.1% and down from June's 8.4%.
Core Retail (ex Gas & Auto) – increased 1.5%, better than expected 1%, down from 7.7%.
June was very strong as the month over month rebound off the significant decline in prior months made for easy comparisons. Core July Retail highlighted continued progress, though at a relatively slow pace due to the impact of Covid-19 resurgence that we saw in the high frequency data.
Consumer Price Index (CPI, a measure of inflation) – 0.6%, higher than expected 0.3% and June's 0.6%.
Core CPI (ex-food, energy) – 0.6% was much higher than expected 0.3% and flat with June.
Overall, there is not much inflationary pressure for consumers as measured by government statistics. The annual increase was 1.6% (ex food, energy).
Leisure/Travel: U.S. hotel occupancy has risen week over week for 16 of the last 17 weeks
Growth in demand (room nights sold) has slowed.
The "Zoom" effect and reduction in corporate travel can be seen in the Top 25 Markets having lower occupancy (41.7%) and Avg Daily Revenue (US$98.90) than all other markets.
Growth slowed for several weeks in late June/early July as Covid cases increased – we're seeing the resumption of incremental growth over the last few weeks.
Current occupancy is approaching 50%. This time of year, the average occupancy in the low 70% range, with 2019 coming in above that. We are still about 20 percentage points below 2009's levels during the Great Recession.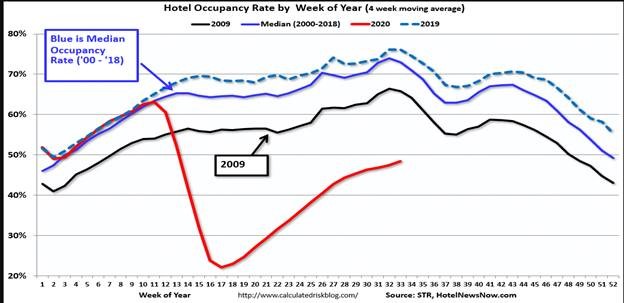 Real Estate:
The National Multifamily Housing Council (NMHC)'s Rent Payment Tracker – 79.3% of apartment households made a full or partial rent payment by August 6.
This is an improvement relative to July's 77.4%.
It is a 1.9%, or 223k-household, decrease year-over-year.
However, this is not uniform across the country.  Manhattan apartment rents fell by the most since October 2011 after having been trending up the prior two years.
The median rent (including landlord concessions) declined 10% year-over-year
July's vacancy rate climbed to a record 4.33%, while supply at the end of the month was the most in data to 2006.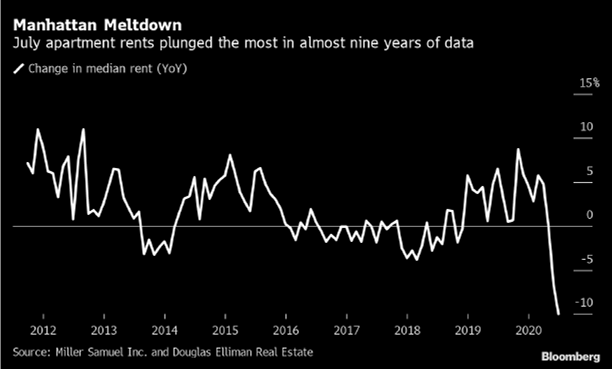 Corporate:
Small Business Optimism (NFIB survey) – 98.8 below expectations of 100.5 and declined compared to June's 100.6.
This survey displayed several negative trends that can impact landlords and the "Main Street" economy.
Yelp stated that 50% of business closures that were temporary at the early stages of the pandemic are now permanent.
Uncertainty Index increased ~10% while expectations by business owners for the economy for the next three months fell 8 percentage points to only slightly net positive.
Half of the small business optimism sub-indexes lost ground. 
Earnings & Wages – year over year increased around 4% in July
Avg Hourly Earnings increased 3.7% year-over-year, compared to 4.3% in June.
Avg Weekly Earnings increased 4.3% year-over-year, compared to 4.6% in June.
Producer Price Index (measure of inflation) – 0.6% was higher than expected 0.3% and a reversal of June's -0.2% decline.
This reading is a positive in that it is a sign that prices for businesses have stabilized, recognizing that there is a recovery continuing in the underlying economy. The higher prices are not high enough to warrant concerns about immediate inflationary pressures.
"Core" PPI (excl food, energy & trade) – was 0.3%, slightly higher than expected 0.2%.
Industrial Production – increased 3.0%, in-line with estimates, below June's 5.7% increase.
As we rebound off the bottom of the economy, the month-to-month gains should moderate.
As we have discussed in prior letters and tracking the high frequency data, manufacturing has been rebounding, though lagging the Consumer in its pace of recovery.
Capacity Utilization – improved to 70.6%, better than expected 70.3% and June's 68.5%
Stronger utilization as the economy rebounds is expected.
International:
Eurozone – reported its steepest drop in employment on record in Q2.
The area shed 2.8% of its jobs when it went into lockdown.  That means about half of the 12 million jobs created since the region's debt crisis have been wiped out.
U.K. – economy declined by 20.4% in Q2, the worst on record, and in-line with expectations.
This follows a 2.2% contraction Q1 in the first quarter.
In June, GDP expanded by 8.7% as government lockdown measures eased.
China – July Industrial Production was +4.8% y/y, same as June and below 5.2% expectations.
YTD data was down 0.4% y/y, up from June's -1.3%
A Few Stories that Caught My Eye