The Fundamentals – Pulse on the Economy and Capital Markets: 8/24/20 – 8/28/20
|
Reading Time: 3 minutes
Executive Summary

The markets remained strong on the back of the Fed's Jackson Hole, WY annual speech which re-set the bar on inflation expectations and interest rates. Stocks reacted positively, despite the implications for inflation and a low growth economy. The economy itself has continued to improve, though the pace of the Consumer rebound has slowed materially, and Consumer surveys reveal that Consumers are nervous about job prospects.
The Markets

The biggest economic news was a speech by Fed Chairman Powell that the Fed intended to keep rates low for years, and will start to look at raising rates after inflation has averaged 2% – i.e. the Fed will let inflation run higher than 2% to make up for the period below it. This was a change in policy.

The Economic News
The economy continues to improve, though the pace is generally slowing and less consistent than May and June's initial rebound. We're seeing the Industrial economy provide more strength while the Consumer economy is experiencing a slow-down in its pace, and in some cases, plateauing.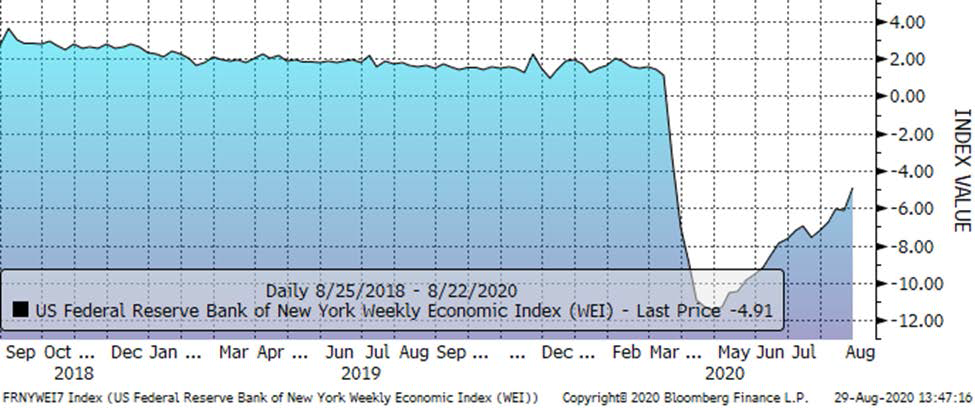 Consumers are showing signs of nervousness ahead of the cliff in government stimulus (Congress has yet to agree on a plan), as evidenced by the high savings rate. Unemployment claims and job losses are not worsening (yet), though the pace of improvement has slowed. Initial employment claims remain above 1 million.
This week several large employers announced a new round of layoffs or potential layoffs – American Airlines, Accenture, Coca-Cola and Delta to name a few.
Some of this may be a negotiating tactic for more federal government support, e.g. airlines. Accenture and Coca-Cola are indirectly impacted by the weaker economy, however their customers are the ones directly facing economic downturns.
High Frequency Data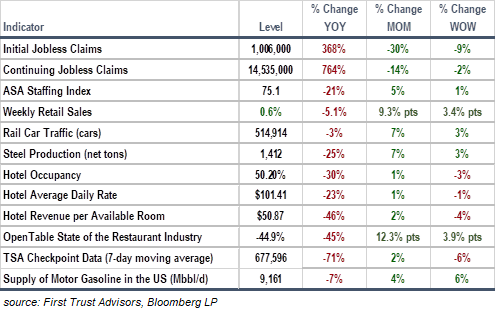 A key take-away is that Industrial-related data (Rail Car Traffic, Steel production) increased nicely month over month and week over week.
This week we're focusing on the Consumer, who accounts for roughly 70% of the U.S. economy.
We're seeing far more selectivity in how the consumers spend funds. Travel (i.e. recreational services) related spending has weakened in comparison to the prior year.
Las Vegas announced that visitor traffic is down 61% year over year.
Hotel-related recovery has plateaued and declined week over week.
Air travel has also plateaued and declined week over week.
It's not all negative as demand for gasoline increased mid-single-digits on a weekly and monthly bases and is only down 7% compared to last year.
Considering how many workers are unemployed or working from home, the 7% decline is relatively benign.
ECommerce growth has been a long-term trend. For the better part of the last decade, it had grown about 15% per year, ending 2019 at 11.3% of Total Retail Sales. Then COVID hit and the trend accelerated – it grew 45% year over year in the most recent quarter.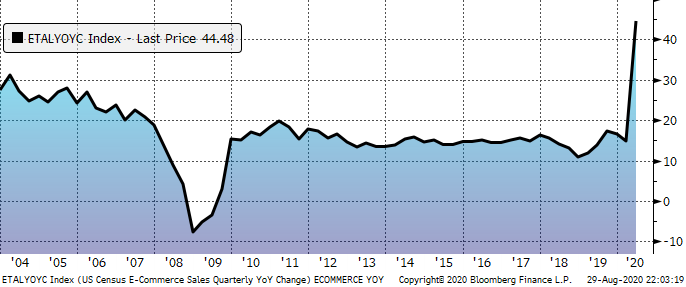 As of Q2 2020, eCommerce now accounts for 16% of Total Retail Sales.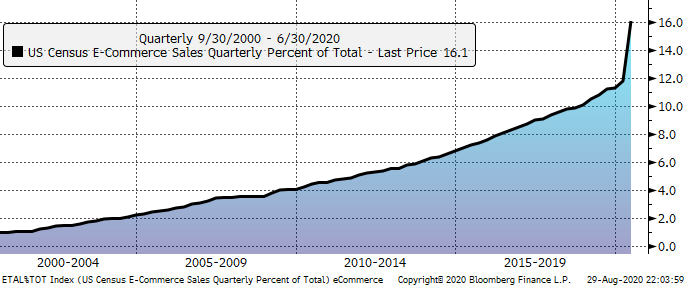 Q2 earnings for major retailers up – they posted extremely strong Same Store Sales on the back of eye-popping online sales growth.


Source: Bloomberg
As we've mentioned recently, we're seeing a consumer who is becoming more cautious as continuation of government stimulus payments is uncertain.
Consumer Confidence disappointed significantly – 84.8 vs. expectations of 93 and down from July's 7. The Consumer's expectations of the next 6 months declined as well.
Residential Housing remains a Consumer bright spot.

New Home Sales for July were 900k, ~15% higher than expectations and June's.
Pending Home Sales for July were stronger than expectations and implied a 15% increase compared to last year.

Personal spending in July was +1.9%, in-line with expectations, but has decelerated from May's 8.6% and June's 2%.

Spending on goods: +2.0% vs. +6.7%

Still above Feb's pre-pandemic peak by 1%.

Spending on services: +1.9% vs. +5.9%

Services remains far below (-9.3%) pre-pandemic
Recreational services declined -10%, an improvement from the -38%

The savings rate remains elevated, falling slightly to 17.8% from 2%.

The last four months posted the highest savings rates on record as stimulus

Unemployment benefits fell by 7.2% and will be a much larger drag in August.
The Johnson Redbook Weekly Index (below) tracks Same-Store Sales for 9,000 locations of general retailers. Above zero implies growth for stores that have been open at least 12 months.
This week (as of 8/25) for the first time since March we had a positive reading.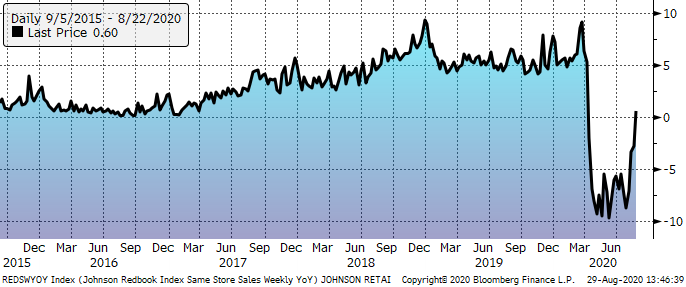 A Few Stories that Caught My Eye