Aprio PCI DSS Services Streamline Compliance
A better way to achieve Payment Card Industry Data Security Standard compliance
Whether you are transitioning to PCI 4.0 or this is your first time, Aprio's transparent, tech-driven approach to PCI DSS compliance helps you save time, reduce workload and relieve stress.
CPA, CISA, CRISC, CIPP/IT, PCI-QSA
Information Assurance Services Leader, Assurance Partner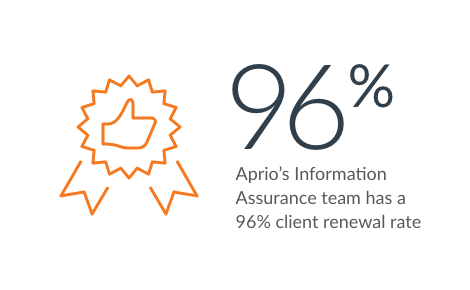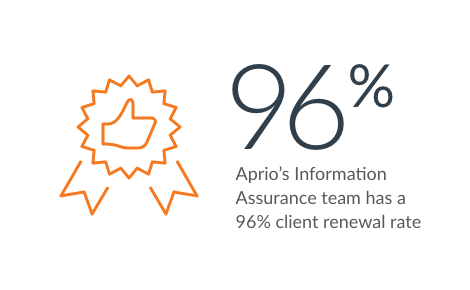 Aprio, the PCI DSS compliance partner clients keep
The ability to demonstrate compliance is a powerful business asset that can be difficult for companies to achieve. The process is detailed and comprehensive, requiring the careful inspection of several hundred artifacts. Aprio can show you how to turn a one-time compliance activity into a consistent risk management practice.
As a top 40 business advisory and CPA firm, Aprio has created a better PCI DSS compliance experience.  Aprio's qualified security assessors use a proprietary streamlined approach to PCI DSS compliance that reduces the complexity, time and stress associated with creating the PCI Report on Compliance (ROC). And our numbers speak for themselves.
Video Series: The 4 Goals of PCI DSS 4.0
Businesses subject to PCI compliance must understand the significant changes in PCI 4.0 as they plan their transition from PCI DSS v3.2.1 to v4.0. This five part video series outlines enhancements made to the structure and content of PCI DSS 4.0 compliance reporting and how changes will impact reporting entities and third-party business partners.
Simplify your transition to PCI DSS 4.0
Aprio delivers the guidance and technology you need to accelerate your transition from PCI DSS v3.2.1 to v4.0.
APRIO'S PCI ASSESSMENT PLATFORM
Planning
Aprio gains understanding and assesses the implications of new 4.0 requirements to develop a customized approach
Aprio's PCI Assessment Platform facilitates mapping of 3.2.1 vs. 4.0 requirements
Aprio's expertise offers objective assessment of gaps and feedback regarding options to close gaps
We develop a 4.0 conversion plan tailored to your business
Remediation
Aprio guides you through the remediation process
Periodic check-ins to assess progress & resolve challenges
Actionable feedback regarding remediation plans
Pre-Assess
Aprio's intelligent platform makes it easy to self assess your PCI 4.0 readiness
Assess
Aprio assesses the mapping of 3.2.1 responses and evidence of 4.0 requirement
Leverage understanding & evidence complied during pre-assessment
Aprio cures the PCI headaches inefficient assessors create
If you are used to a time-consuming, difficult and frustrating path to achieving your ROC, you don't have to suffer. The root causes of these problems lie in outdated technology, bad project management, incorrect scoping, and a poor understanding of PCI and information security. Our process approach helps you:
Know what you need to do when
Understand what evidence has been submitted and its testing status
Avoid unnecessary meetings
Avoid redundant evidence requests
Always know if your project is on track
What you can expect from Aprio's PCI compliance team
It takes PCI expertise, strong project management and enabling technology to deliver quality PCI compliance reporting efficiently. If you are tired of enduring the inefficiencies and stress of compliance spikes, here is what you can expect from Aprio:
PCI DSS scoping clarity
We gain a detailed understanding of your business, system architecture and data flow, which delivers confidence that your PCI scope and PCI ROC meet your compliance, security and stakeholder needs.
Efficiency & organization
Understand the complete set of evidence required for your assessment organized to your scope and how you manage PCI, rather than simply sharing the 800+ rows of your ROC.
Progress transparency
Aprio's PCI Assessment Platform (APAP) provides real-time monitoring of evidence and testing results at the company, department, or individual level.
Efficiency & security
Aprio's APAP enables your team to easily attach files and know the requirements and status of addressing each.  APAP can directly access GRC or other data repositories logically and via APIs.
Control & peace-of-mind
Because our approach is founded on a detailed assessment project plan, managed through our platform, you know at all times the status of your assessment, next steps, and whether or not your assessment is on track.
Multiple reporters spend less time on compliance with Aprio
The PCI DSS is a set of security standards developed by the Payment Card Security Standards Council's that is designed to ensure that all companies that process, transmit or store credit card data maintain a secure environment. But PCI is just one of many compliance frameworks.
If you are required to manage data security and privacy compliance reporting requirements in addition to PCI, you'll appreciate Aprio's pragmatic approach that unifies the collection and cataloging of control evidence. We can help you avoid audit fatigue.
Aprio is one of the few firms that can provide third-party testing and attestation against the leading compliance frameworks including SOC reporting, ISO 27001, ISO 27701, HITRUST CSF, NY DFS and more.
Our goal is to help you make effective, sustainable information risk management and reporting easier to achieve.
Experience a better way to achieve and maintain PCI DSS compliance.