Supply Chains: Leveraging Blockchain can Enhance Transparency
At a glance
Main takeaway: Blockchain is complex, but so is supply chain management. Like with any innovative technology, it's natural to be a bit skeptical at first, however, blockchain can provide enhanced transparency that could redefine supply chains.
Impact on your business: Blockchain can create value and vast opportunities, but its complexity requires careful planning.
Next steps: Aprio has been working within the blockchain industry for over a decade. Our Technology and Blockchain CPA Services team can help you understand and explore the benefits of blockchain for your supply chain.
Schedule a consultation with Aprio today.
The full story:
Supply chain management is essential to the smooth running of your business. Moving goods from source to customer as efficiently as possible is key to revenue growth and strong margins. However, today's supply chain is incredibly complex with many different parties in the chain, each with their own system for tracking the movement of goods. The creation of blockchain technologies is beginning to revolutionize the supply chain with the creation of a decentralized ledger, allowing all parties to seamlessly track the movement.
What is Blockchain Technology?
A blockchain is a digital ledger of data hosted in the cloud. Information is recorded in a chain organized in blocks of data layered on top of each other to form a chain. This structure allows data to be stored securely creating immutable data.
It provides real-time availability of data and enables chronological changes to be easily documented and viewable by all relevant parties.
Benefits supply chains can gain by leveraging blockchain
The use of blockchain can create value and redefine supply chain systems and processes by providing:
Traceability – Blockchain can map and verify the origin of a product within seconds to enhance transparency and improve trust across your supply chain. The benefits of traceability are exponential. Traceability adds trust – this trust can extend to all stakeholders – from investors, staff, customers and regulators.
Increased Efficiencies – Supply chains will be able to accurately report on a product's entire lifecycle in real-time allowing for better purchasing decisions, logistical planning and speed to market.
Lower Administrative Costs – There is a significant amount of human capital costs (and time) attributed to supply chains, which will reduce costs and can help reduce human errors.
Brand Management – Being able to trace the source of raw materials back to producers enables enhanced management of ethically sourced materials and protects the business from negative P.R.
Customer Engagement – The ability to track the location of goods and update customers in real time can lead to enhanced customer satisfaction and repeat business.
Supply Chain Management on the Blockchain: Walmart Case study
One of the most prominent examples of blockchain usage today is the Walmart case study by Hyperledger Fabric.
When there is a foodborne illness outbreak, it can take weeks for the US Food & Drug Administration (FDA) to pinpoint the exact region of where that specific food item was grown. When E. coli was found in romaine lettuce, grocers across the country removed millions of lettuce products from their shelves and naturally consumers were a bit leery to dive back into purchasing romaine.
This experience prompted Walmart to explore better solutions to increase the transparency and traceability of their food system and supply chain. This is where blockchain technology came into play. Together with Hyperledger Fabric, Walmart developed a series of tests — to trace the origin of mangos sold at US Walmart stores and trace pork sold in its China stores. The blockchain-based food traceability system, developed by Hyperledger, was able to track the origin of where the mangos were grown in 2.2 seconds (which manually took Walmart's team 7 days in the past), and identified and uploaded the certificates of authenticity for the pork sold in China.
Blockchain might be complex, but it's not scary
Like with any innovative technology on the market, there are always going to be hesitations during the initial adoption period. We are still in the 'early days' of fully tapping into the capabilities of blockchain and industries are continuing to explore its many use cases. Specific to supply chains there are a few concerns which may cause hesitation in rolling out and adopting blockchain for supply chain management:
Security – Everyone has heard of Bitcoin and its blockchain. The Bitcoin blockchain is a publicly viewable chain which allows everyone to publicly view the transactions occurring on-chain. A common misconception is that all blockchains are public and viewable by everyone. This is not the case and relative to supply chain management the blockchain used would be decentralized and permissioned based, meaning that only permissible users would have visibility.
Education – Blockchain is new technology. It is commonly associated with cryptocurrency and volatile assets such as NFT's. These terms are used by people interchangeably and have regrettably led to mainstream confusion and trepidation. Increasing education in this area is enabling a wider understanding of its uses and benefits.
Cost – Whether you are purchasing new equipment or implementing the latest technology, the upfront costs may be relatively high, however, the long-term benefits will eventually outweigh those initial costs.
The bottom line
There is no question that blockchain is a powerful tool with vast opportunities that can redefine supply chain management. While large companies — Walmart, Home Depot and Ford — are already experimenting with blockchain, others are just beginning to assess how blockchain would fit into their supply chain.
Aprio has been working within the blockchain industry for over a decade. Our Technology and Blockchain CPA Services team can help you understand and explore the benefits of blockchain and how it can fit into your supply chain. If you have any questions or would like to explore the possibilities of how it may fit into your manufacturing organization, contact us today!
Schedule a consultation with Aprio today.
Related resources
Stay informed with Aprio.
Get industry news and leading insights delivered straight to your inbox.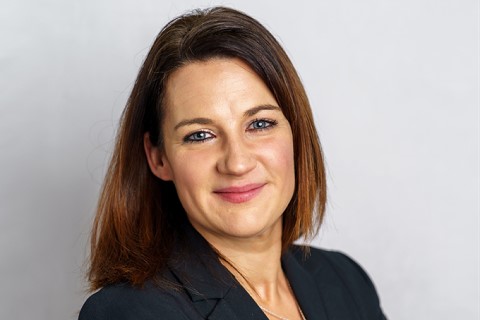 Emily is the leader of Aprio Cloud's Blockchain and Cryptocurrency Team, providing outsourced accounting, technology solutions and blockchain consulting to CEOs and CFOs of venture-backed startups and growing companies.