Accounting and Finance Staffing
As a top 50 CPA-led business advisory firm, the relationships we build with each of our clients, team members and peers are the core of our success.
Aprio's advisors vet candidates from our deep network of high-performing accounting professionals to connect top candidates with top job opportunities across the U.S., Canada and Mexico.
Executive Vice President, Digital Transformation and Cybersecurity Advisory Services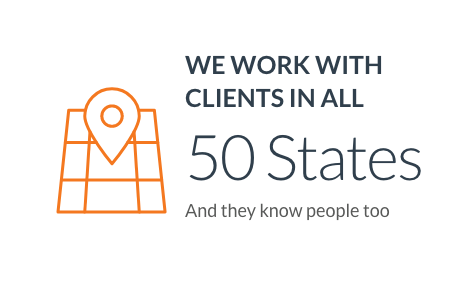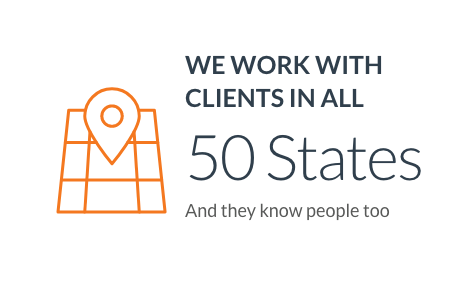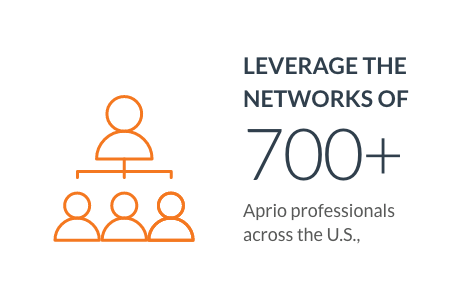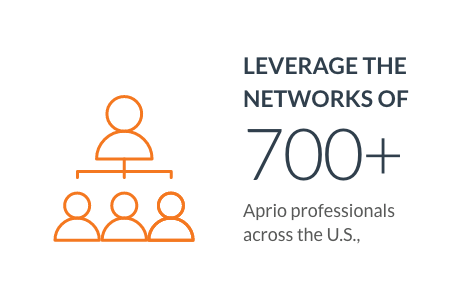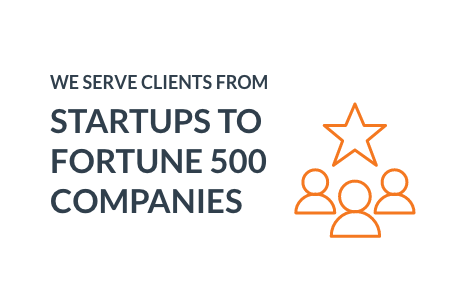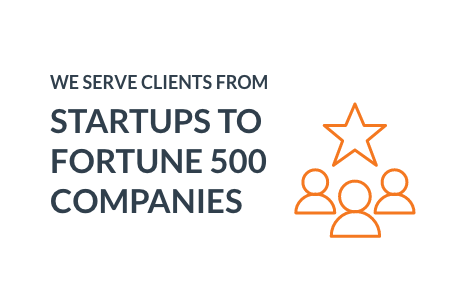 Aprio's relationship recruiting — our people know people
The accounting and finance profession is highly collaborative and relationship-driven. Leverage Aprio's trusted industry relationships to find the people you need.
Our deep network and unique combination of data intelligence, integrated technology and industry expertise help Aprio deliver higher-quality candidates with proven track records, relevant experience and the right personalities.
Our pros vet your candidates
At Aprio, the team members who vet your candidates are accounting pros by trade — not recruiters. The certifications held by our team members include CPA, CIA®, CMA, CGMA, MBA, Ph.D., J.D., MTax, LL.M., CFF®, CFE, CAMS, CVA, CM&AA … and more. That means fewer resumes to review and fewer interviews to endure. Here is just an example of the roles we can help you place.
Articles & Downloadable Material
Accounting & finance professionals who know your industry
Leverage Aprio's deep expertise across a broad range of industries to drive transformative growth. Our industry experts vet professionals with relevant experience in your sector to help you react quickly to industry trends and growth opportunities.
Flexible recruiting solutions that limit employment risk
Aprio Talent Solutions offer five recruiting services that can be tailored to your specific business needs and limit the risks associated with rapid growth. We can also create custom-designed combined hiring models.
Learn more about Aprio's Talent Solutions.