ISO 27701 Compliance and Certification with Aprio
Build, assess and certify your privacy compliance program against virtually any privacy regulation, including GDPR, CCPA, HIPAA and many others with ISO 27701 from Aprio.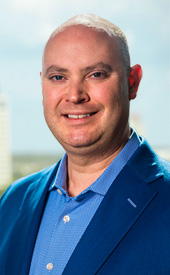 CISA, CCSFP, ISO 27001 LA
Information Assurance Services, Assurance Partner
Why clients choose Aprio
for ISO 27701 Certification?
What's your organization's strategy to address the increasing importance of information privacy and the rising tide of data privacy laws across the US and the world?  If you're not sure, consider an ISO 27701 Certification with Aprio.
ISO 27701 is the first true international certification for privacy compliance, built on ISO 27001, the recognized international gold standard for information security management.
As the first full-service CPA firm in the U.S. to receive ANAB accreditation as an ISO 27701 certifying body, Aprio stands ready to help your organization address your privacy compliance challenges.
Here is what you can expect from Aprio:
The ability to demonstrate compliance with privacy and security standards is key to growing your business.
Numerous Aprio clients have shared that working with our team has improved the operational integrity of their business.
Efficient, effective
and easier
Experience a pragmatic and efficient ISO certification process that makes effective and sustainable information risk management and reporting easier to achieve.
ISO 27701/SOC 2 efficiency
Realize leverage between ISO 27001/27701 and SOC 2 reporting for greater efficiencies in testing, monitoring, and compliance across multiple compliance engagements.
We are practitioners, not salesmen
The same professional you talk with during your decision will also manage your engagement. That's how we deliver quality and confidence the job's done right.
Quality reports that stand up to scrutiny
Our reports and certifications represent your security and risk management program and will stand up to the scrutiny of prospective clients, auditors and regulators.
ISO 27701 is the first true international certification for privacy compliance. The framework builds on ISO 27001's existing ISMS standards with additional requirements to establish, implement, maintain and continually improve a privacy information management system (PIMS).
When used in conjunction with ISO 27001 to address information security, the standard provides a comprehensive framework for privacy regulations addressing the specific needs of both PII Controllers and PII Processors.
ISO 27701 simplifies the management of risk, compliance and certification with all domestic and international data privacy laws including:
Who should consider adding ISO 27701
to an ISO 27001 certification?
ISO 27701 compliance is relevant to any organization that collects, processes, transmits or stores Personally Identifiable Information (PII). Organizations that have existing or are planning to obtain ISO 27001 certification should consider adding on 27701
to address privacy risk management.
Digital Healthcare
Fintech
Data Analytics
Professional Services
Marketing
Insurance Providers
Add ISO 27701 to your ISO 27001 Certification with Aprio
Clients with multiple privacy compliance reporting requirements appreciate Aprio's pragmatic approach that unifies the collection and cataloging of control evidence to simplify reporting and avoid audit fatigue.
Aprio can help you make effective sustainable information risk management and reporting easier to achieve.
Aprio Information Assurance Services (IAS) is a practice of Aprio, LLP, an independent, CPA and professional services firm. We perform these engagements as an independent professional service provider. We are aware of no relationships between the partners of Aprio, LLP or the IAS engagement team with our client's management, shareholders, board members or fiduciaries that would impair our independence or present conflicts of interest that would affect impartiality. Aprio conducts new client acceptance procedures for the firm, and relative to potential new IAS clients, IAS management does not participate in the decision making in order to maintain our independence.
Accreditation Certification
If you'd like to verify the ISO certification of a specific client, we request that you email us the client's name and a telephone contact number where we may reach you.
Email powell.jones@aprio.com
Learn how Aprio can help you extend your
ISO 27001 Certification to include 27701